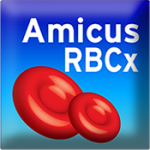 The Amicus RBCx Estimator app is a tool designed to help medical professionals estimate the amount of replacement fluid needed to perform red blood cell exchange procedures on the Amicus Separator, based on physician prescription for target End Hematocrit and FCR.
By entering patient parameters, target End Hematocrit and FCR, the estimator will calculate and display the estimated volume of replacement fluid required to reach the desired endpoints.
This tool is not intended to be used to make medical decisions. It is intended as an aid for obtaining an approximation of the Amicus Separator calculations. The patient and prescription parameters must still be entered on the Amicus Separator at the time of the procedure for actual calculation of replacement volumes. This app is for exclusive use in estimating volumes for an Amicus Separator RBCx procedure. This app is not to be used to estimate volumes for other devices used for RBCx procedures.
Refer to the Amicus Separator operator's manual for the full list of warnings and cautions associated with the use of the Amicus device.